June Newsletter for Marceline UMC!
June 2021

From Pastor John...
In the past I've been part of events where we'd do a wrap up, often a few days to a couple of weeks after the event. These sorts of things are important, especially if you are going to do them again in the future, or because they were of such significance that they are going to impact how you do things going forward.

>>Read more here

Peace,
Pastor John
Remember you can forward newsletter on to folks that might be interested and they can subscribe to our email list to stay up-to-date on things.
Monthly Calendar
Mondays
7am-7:30am Scripture Reading on KDWD 99.1

Tuesdays
4pm Centering Prayer Live on our Facebook Page
5pm Prayer Group in the Elementary Sunday School Classroom

Fridays
7am-7:30am Scripture Reading on KDWD 99.1

Sundays
Online Worship on our website (click on the link for Sunday's date)
9am Worship in the Sanctuary
10:10am Worship in the Sanctuary
---
Other Church Events
6/7 3pm-5pm: The Food Pantry is open in the Fellowship hall
6/8 7am: Community Prayer at Bethany Baptist Church
6/9 1:30pm: Orpha Circle in the Fellowship Hall
6/12-6/13: Missouri Annual Conference (online only)
6/14: Flag Day
6/14 5:30pm: Celebrate Recovery meal at the Assembly of God
6/19: Juneteenth
6/20: Father's Day
6/21 3pm-5pm: The Food Pantry is open in the Fellowship hall
6/30 7pm: Gospel Sing in Ripley Park
7/4 10am: Community Worship Service in Ripley Park (no in person worship)
---
Community Calendars
Marceline School Calendar
My Country 99.1 Community Calendar
---
Office Hours
Beth: Wed-Fri, 8am-2pm
Pastor John: Monday all day,others by appointment (or stop in)

Join us on the second Tuesday of each month for a time of community prayer. We'll meet at 7am at area churches so you will still have time to come before work starts. We know that we need this time together and we would love to see you there!
This month we're meeting at Bethan Baptist Church on Tuesday 6/8/21 at 7am.
Gospel Sing
Sponsored by the Marceline Fire Department
Wednesday, June 30, 2021 at 7:00 p.m. in Ripley Park.
Anyone interested in singing contact John Carver at 660 376 3625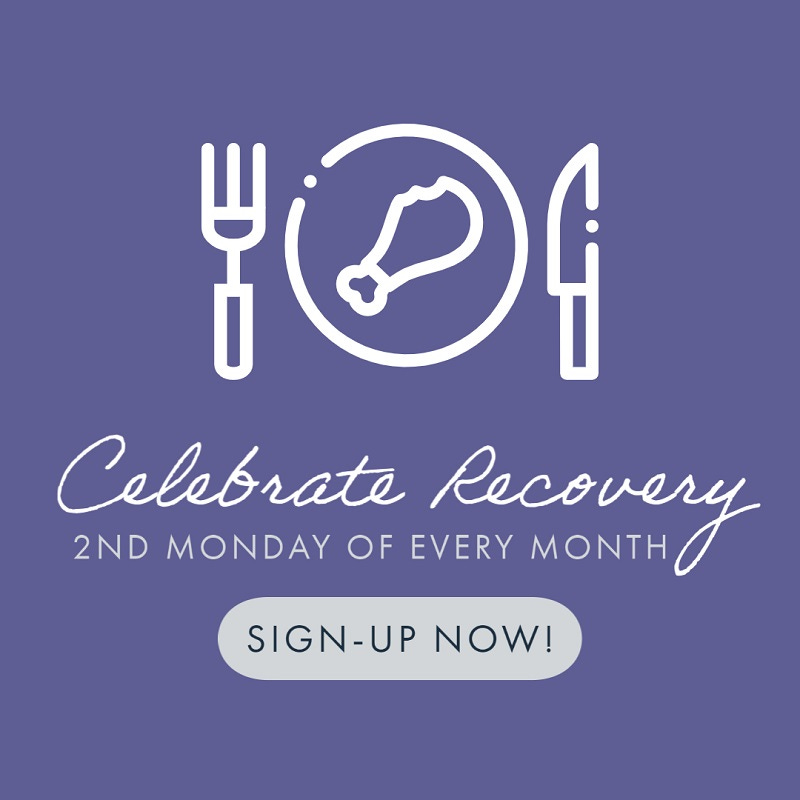 We're signing up to do meals at Celebrate Recovery for the 2nd half of the year. You can sign-up in the back of the Sanctuary, or by clicking on the link below.
CR Meal Sign-Up
When you click on the link, select if you'd like to be the lead for that month or a volunteer (you can sign-up for as many times as you want) and when you're ready click "Submit and Signup" at the bottom of the screen. There you can put in your name and contact info.
Sharing Table
We will begin the Sharing Table in the santuary entryway the first Sunday in June through the last Sunday in September. You are invited to donate plants, fresh produce and baked goods any Sunday. The items donated will be sold for a donation which is given to eight Missouri based service agencies.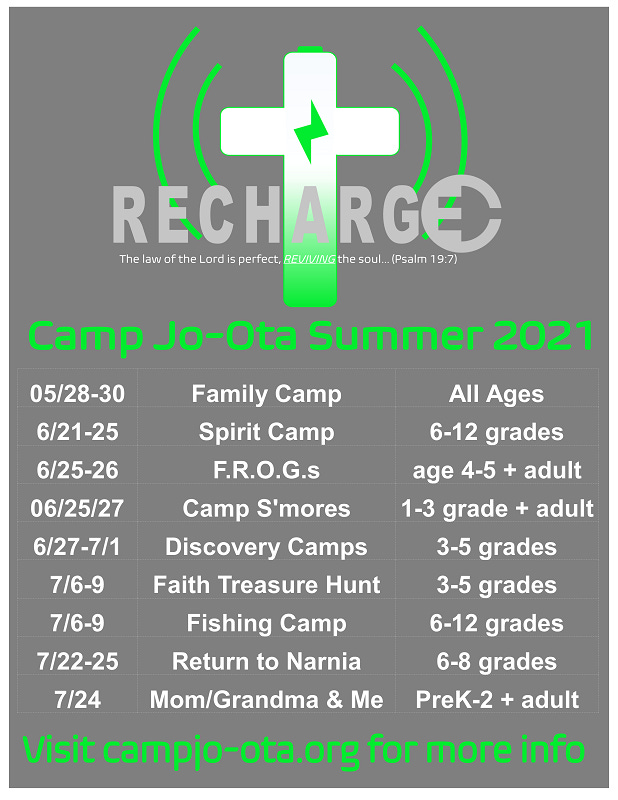 Counselors Needed
Discovery Camp is for kids going into 3rd-5th grade. It is almost like four camps in one as there are four different discovery zones: Rockets, Sewing, Outdoor Adventure, and Sports. And of course there are campfires, large group games, Bible discovery, swimming, small groups, and all the other things that make camp happen.
But this can't happen without counselors. Counselors are people who love God and love kids enough to give a few days of their time to make this happen. They need to be at least 16 years old. Parents, coaches, grandparents, aunts and uncles can all make good counselors.
Here are the details:
Sunday, June 27 at 2 pm (if possible) campers arrive at 4:00 pm.
Thursday, July 1 at noon you are free to go (probably a little sooner).

What you will do:
Lead or assist in a small group – (discussion materials will be provided)
Lead or assist in a large group game – (materials will be provided)
Assist at one of the discovery zones (Rockets/Sports/Outdoor Adventure/Sewing)
Be a friend/mom/dad/coach/grandparent to the kids.
Help with overnight supervision (stay in the cabin with them)

You will need to me Safe Sanctuary/Safe Gatherings approved. (If you are not we can get that done – but it takes a while.)
Finally there is a $25 charge for all the food, but if that is a problem, I will gladly pay that.

If you are interested contact Rev Eric Anderson at 573-822-9701 pastor.eric.missouri@gmail.com

Orpha Circle will meet on June 9th at the church at 1:30pm. We are collecting for Festival of Sharing Kits, and the congregation is invited to join us in this project. We collect one item a month for a kit. We usually send 20 kits to them in September. It would be wonderful if we could send more. Other items needed are:

4 child size toothbrushes
1 tube of fluoride toothpaste
2 adult soft toothbrushes.

Put your donations in the pie room marked for Orpha. Thank you.
Birthdays
1 - Christian Dyas
1 - Kathy Stark
3 - Kari English
4 - Gabe Kelly
6 - Jamie Sibley
12 - Sharon Sportsman
12 - Lisa Pope
12 - Audrey Walsworth
17 - Michael Anders
24 - Sallie Buck
26 - Pamela Engelhard
28 - Marilyn Mears
29 - Lena Fisher
29 - Kylee Schmitt

Anniversaries
3 - Bill & Brenda Moore
6 - Gary & Eleanor Ravens
9 - John & Vicki Helton
20 - John & Julie Sheerman
22 - Jason & Beth Teeter
24 - John & Emily Pinkston
Local History
Thanks to Cheryl Cavanah for passing this on! There's a local connection for us and more info about a very comforting hymn in our hymnal. Click on the links to read the original post, and to find out more about Doris Akers.

There was a recent UMC post on facebook concerning the hymn "Sweet, Sweet, Spirit." It was very informative and although it said the author/composer was a Missouri native, it failed to mention Doris Akers was born in Brookfield and spent a lot of her life in Kirksville.
Prayer List

Breakthrough Prayer: Come Holy Spirit, come show us how we can be the spiritual heart of this community
Goals: Grow in faith, Understand our role in the community, Listening for God's voice daily

Groups:
Church: Denomination, Conference, Area UMC's, Area Churches
Schools: Students, Teachers, Administrators, Employees
Government: Leaders, Local, County, State, National
Young Adults, Newcomers, Unchurched

Situations: Covid-19 Pandemic, Racism, Economic Disparity

Individuals: Jim Lester family, Ed McLachlan, Mary Preston, Pat Watkins, John Garvey Family, John Hendrickson, Kevin Stanfield, Pammie Burch, Jonathan Fagan, Ron Chrisman, Gene Liebhart, Linda Sterbenz, Leona Schaefer, Pam Epperson, Gary Carlson, Kyle Lake, Bryant Dunn, Linda Ewigman, Gene Taylor, Kara Robinson, John Christy, Colt Parris, Johnny Helton, Kenny Bailey, Angie Builder, Bob & Pat Magee, Pearl Miller, Zoe Tolliver, Joan Sportsman, Shane Cavanah, Dan Brooks, Wayne Heins, Ruth Farris, Linda Korte, Mary Sayler, Lynn Fellmann, Mark Ewigman, C.A. Lain, Thomas Wellman

Pioneer: Mabel Worley, Marilyn Mears
Bristol Manor: Annie George
Lenoir Woods: Ed McLachlan

Military Service
Patric Munson, Nick Cain, LTC John Casey Welch, Tyler Nanneman, Jeffrey Tucker, Kelly Tucker, Brandon Wellman, Heath Floray, Steve Graves, Michael Pyrtle, William Leukenotte, Kerry Lowrey