July 12, 2021
Hello Church,

I want to start by saying a big thanks to everyone that supported the spaghetti dinner fundriaser for Ministries in Linn County! You can see a couple of pictures in our parting shot at the end of the email. We raised about $1100-1200 for Ministries in Linn County. I'll be putting a final number together this week.

Coming up on Saturday we'll have another distribution from Convoy of Hope! I'm expecting we'll be back here at the church by noon. If you, or someone you know can make use of what is coming, come on by Saturday afternoon.

We've hit the quieter part of Summer for the church, which means I hope that you are having a good Summer off doing all the things that you're doing, and I look forward to seeing you when you get back.

Check later in the email for info about Celebrate Recovery, camps, and an updated list of devotions and prayer resources.

Our parting shot for this week is from the spaghetti dinner. Take a look at the end of the email to see more.

Remember you can forward these emails on to folks that might be interested and they can subscribe to our email list to stay up-to-date on things.

Have a great week!

Peace,
Pastor John
Going On This Week
Monday
Tuesday
4pm Facebook Live Centering Prayer

5:00pm Prayer Group in the downstairs Elementary Classroom
Wednesday
1:30pm Orpha Circle in the Fellowship Hall
Sunday
9am Facebook Worship

10:10am In Person Worship in the Sanctuary
Community Calendars
Marceline School Calendar
My Country 99.1 Community Calendar

Worship Links
Online Worship Posts
Youtube Services, Messages
Worship Music Lists: YouTube, Spotifiy
You can sign-up to serve a meal at Celebrate Recovery from July to December of this year. Just click on the link. Check the box or boxes for what you want to do. Then click "Submit and Sign Up" at the bottom of the screen to enter your name, email (optional), and any comments like what you want to bring.

CR Sign-UP

You can still sign-up in the back of the sanctuary too, and we'll keep the list updated every week.
Prayer & Devotions
Prayers
The Hours
The Examen
Prayer Guide - PDF (book format), Online Format

Daily Devotions
Seedbed Devotions
YMI
The Upper Room
GPS Guide from Church of the Resurrection
Our Daily Bread
Daily Meditations from the Center for Action & Contemplation

Church Blog
Check our church blog for recent announcements and newsletters. That's where we try to put more information for things that are going on.

Other Resources
RightNow Media: Sign-Up if you haven't already
Bible Project: Videos that explain books of the Bible
Five Day Bible Reading - Read through the Bible in a year
YouVersion - Online Bible
Prayer List
Goals: Grow in faith, Understand our role in the community, Listening for God's voice daily
Groups: Church: Denomination, Conference, Area UMC's, Area Churches
Schools: Students, Teachers, Administrators, Employees
Young Adults, Newcomers, Unchurched
Government: Leaders, Local, County, State, National
Situations: Covid-19 Pandemic, Racism, Economic Disparity
Individuals: Jason Sibley, Marie Vietti Family, Doris Simpson, Pat Biswell, Bob Marriott, Ed McLachlan, Mary Preston, Pat Watkins, John Hendrickson, Kevin Stanfield, Pammie Burch, Jonathan Fagan, Ron Chrisman, Gene Liebhart, Linda Sterbenz, Gary Carlson, Kyle Lake, Bryant Dunn, Linda Ewigman, Kara Robinson, Kenny Bailey, Angie Builder, Bob & Pat Magee, Pearl Miller, Zoe Tolliver, Joan Sportsman, Shane Cavanah, Dan Brooks, Wayne Heins, Ruth Farris, Lynn Fellmann, C.A. Lain, Thomas Wellman
Pioneer: Mabel Worley, Marylin Mears
Bristol Manor: Annie George
Lenior Woods: Ed McLachlan

Military Service: Patric Munson, Nick Cain, LTC John Casey Welch, Tyler Nanneman, Jeffrey Tucker, Kelly Tucker, Brandon Wellman, Heath Floray, Steve Graves, Michael Pyrtle, William Leukenotte, Kerry Lowrey,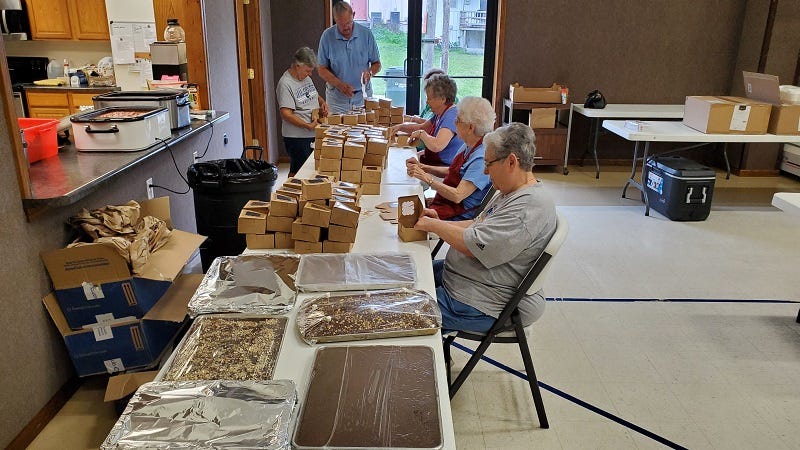 We'd planned for a lot of people and our great volunteers we had all day did a lot of work to get things ready....including putting together all the little dessert boxes. We served just over 100 meals and made $1100-1200. We're looking forward to doing this again. Below you can see what we served, unfortuately you can't eat this one.